There's nothing quite like walking into the lobby of your Walt Disney World Resort hotel after an exciting and sometimes exhausting day in the parks.
But, Disney Resort hotels can be expensive. Luckily, Disney tries to provide a great hotel experience at multiple price points from Deluxe Resorts to Value Resorts. How can you be sure you're choosing the right resort for your family? That's why we're here — we're taking a look at the 5 best Disney World Value Resort Hotels.
What is a Disney Value Resort?
First, let's go over the basics. Disney Value Resorts are considered the "budget-friendly" hotel option if you're staying on property at Walt Disney World. But just because you're not paying top dollar doesn't mean that you will miss out on the Disney experience! These resorts are themed with larger-than-life decorations and offer most of the amenities you can expect at a Disney hotel.
Because these hotels are more budget-friendly, the standard rooms tend to be a bit smaller in size with fewer "extras" that you might find in a Moderate or Deluxe Disney World hotel.
Each Value Resort also has one larger food court for dining where you'll find options for breakfast, lunch, and dinner. (Moderates and Deluxes have more than one dining option.) The food courts tend to be pretty large and to offer a lot of seating and diverse options for each meal.
Plus, you'll also find a gift shop with merchandise and toiletries, two or more themed swimming pools, and at least one form of Disney transportation to the parks.
Here's How Our Readers Ranked Disney's Value Resort Hotels
5. ALL STAR SPORTS
Disney's All Star Sports Resort is perfect for anyone who loves all things sports! Surfing, American football, and basketball are just some of the sports featured in this hotel theming. This resort earned a 6.93 out of 10 rating. Here's what our readers had to say about their stays: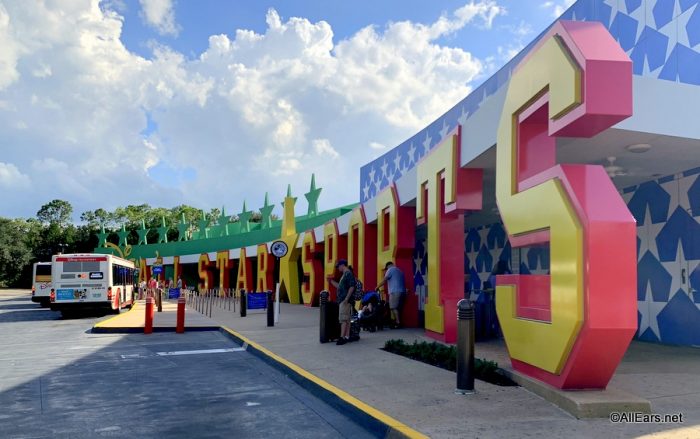 "This should be everyone's choice for an All Star stay. Because it's the first stop for the shared busses, every single bus is going to come to you empty and drop you off first at the end of the day. You'll have a better chance of a seat, and you'll never have to watch a full bus drive past without stopping. We went at a low crowd time, and there were no issues with noise. The oversized sports icons are a lot of fun, even for a no-sports person like me! Coffee makers are not standard, but some are available by request on a first come first served basis."
"If you have a sports fan in the family, I'm sure the decor is delightful. Affordable option if you're just looking for an on-site hotel to crash in each night."
"Good hotel for families who plan on spending a lot of time in the parks. Stayed there twice and enjoyed it both times. Pools are relaxing and fun, and the food court had a good selection of food."
ALL STAR SPORTS RESORT (VALUE RESORT)
Rating: 6.9 / 10 Recommended By: 80% Read All Reviews (55)
4. ALL STAR MUSIC
Music lovers, this one is for you. Multiple genres of tunes are represented here, from calypso to rock and country to show-tunes. The layout and rooms of all three All Star resorts are pretty similar, and All Star Music is no different. Coming in with a score of 7.54 out of 10, let's see how our readers feel about this value resort: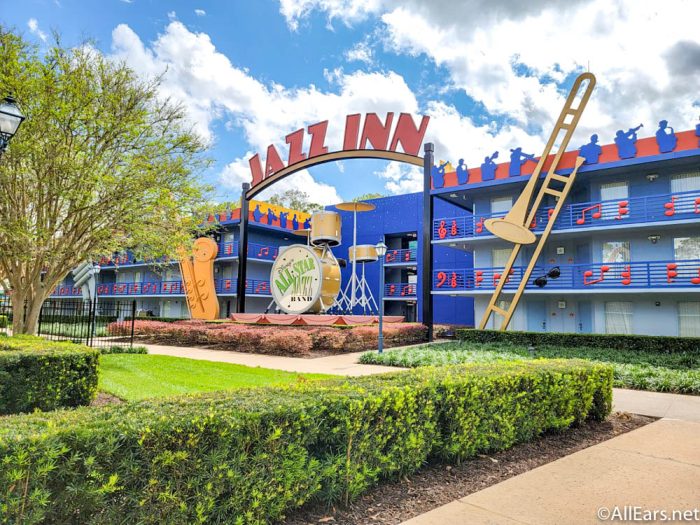 "The room was clean and well maintained. Possibly refurbished within the last year. It was about a 5 min walk to the main building/pool. We had breakfast at the food court 3 mornings. The food was typical WDW resort food court fare. My expectations weren't too high so I wasn't disappointed. The pizza was ok. The bus service was no better or worse than what I have experienced staying at other WDW resorts."
"This is a nice value resort – I prefer the movies resort just for the theming aspect, but I have no major complaints about the music resort. The value resorts get a bad rap in general if you ask me, but I think they're a great choice for anyone trying to save a few bucks on a Disney stay (especially families!)"
"The theming is definitely great for your little ones. However, outside of Mickey here and there with some music thrown in…it's pretty much the same as any small hotel room you'd find in your home town."
ALL STAR MUSIC RESORT (VALUE RESORT)
Rating: 7.5 / 10Recommended By: 89% Read All Reviews (96)
3. ALL STAR MOVIES
Next up on the list of value resorts is Disney's All Star Movies Resort, which scored a 7.7 out of 10 from our readers. Guests thought these rooms were clean but small and loved the Disney touches throughout the resort. Here's what some readers had to say: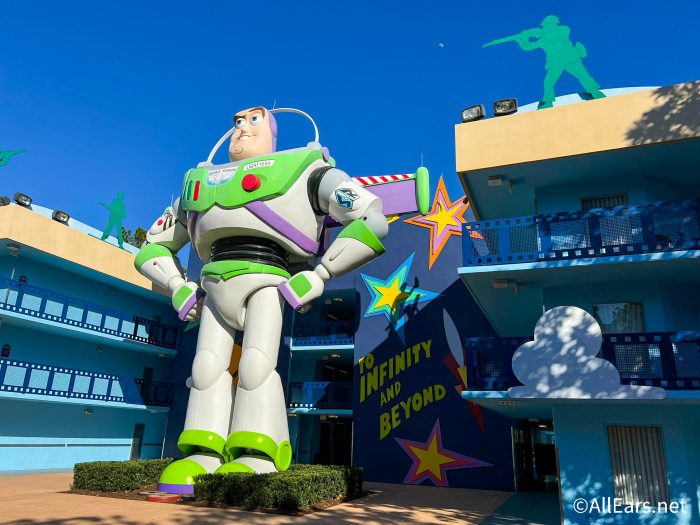 "Inexpensive on-property resort. Clean facilities and plenty of storage in the rooms. The hotel grounds were adorable with lots of characters to explore."
"Great resort. This is where we stayed for our very first trip to Walt Disney World. Besides the shared bus services it was perfect. If you plan to spend most of your time in a park this is perfect. It is affordable all you need. Use the money you saved staying here and get an extra park day!"
"The rooms were really small, I wouldn't fit more than two adults in a room if you can help it. But I loved getting the nonstop Disney magic!"
ALL STAR MOVIES RESORT (VALUE RESORT)
Rating: 7.7 / 10 Recommended By: 91% Read All Reviews (96)
2. POP CENTURY
If you've ever wanted to travel back in time, or are just a little nostalgic for the days of yesteryear, Disney's Pop Century Resort might be for you! Featuring theming from the 1950s, 60s, 70s, 80s, and even 90s, this resort is a real blast from the past! Guests love the easy access to the Skyliner, and our readers rated this hotel a 7.91 out of 10, but let's see what else they had to say: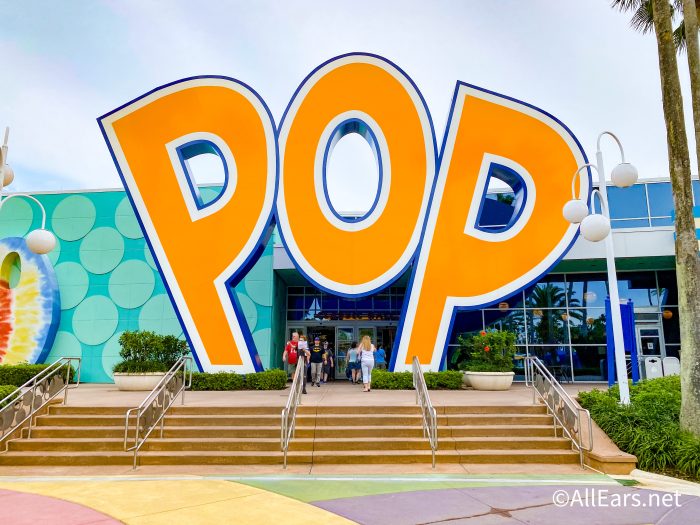 "Great stay as always, the theming is Disney at its best and the recent addition of the Skyliner is a foot saver and it's a great relief from the buses and really an attraction by itself."
"We love Pop Century and it is our go to for our trips to Disney. We have been 4 times in 18 months and stay here each time. If you stay a little farther out from the main building and pools it's quiet. Food court is pretty good, typical fast food type options, but that's ok with us after long days at the park. We love ordering and then eating in the room. The staff have always been phenomenal, even when we had an issue with our latest stay. They were amazing and helpful. Clean rooms and being on the skyliner is a big pro for us too!"
"This resort is a perfect spot for those on a budget. The rooms may be small compared to other resorts, but the value is great! Having access to both buses and the skyliner for part transportation is awesome. Even at busy times, we didn't wait more than 20 minutes for transportation."
POP CENTURY RESORT (VALUE RESORT)
Rating: 7.9 / 10 Recommended By: 88% Read All Reviews (277)
1. ART OF ANIMATION
Last, but definitely NOT least is Disney's Art of Animation Resort, which received the highest score of 8.18 out of 10. The youngest value resort option, it is a fan-favorite for families and other guests alike due to the extensive Disney theming and easy access to the Skyliner. Here's what our readers thought about this resort: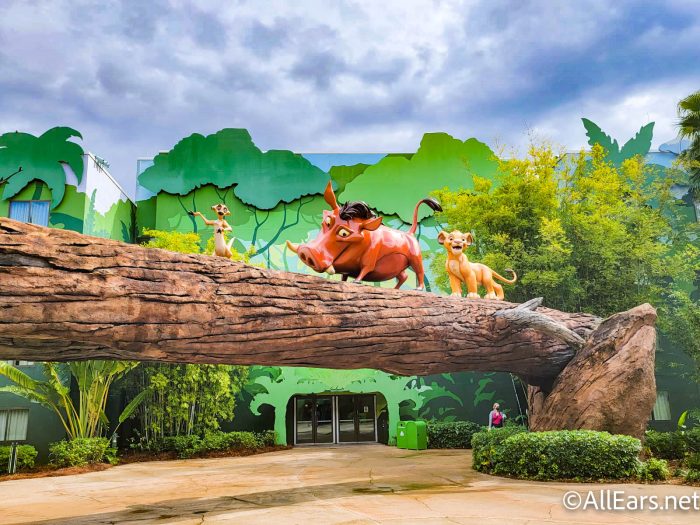 "If you are traveling with a big group and love the classic Disney movies and want to feel like you are never leaving the parks than this is the best hotel for you! The cars family suites are good sized and can accommodate a large family."
"I can't say enough good things about this resort. The Big Blue Pool was beautiful (even though it was a bit crowded when we were there). The lobby, gift shop, and food court area were awesome and spacious. Our kids absolutely loved this resort and wanted to go back immediately."
"We absolutely loved staying at the Art of Animation! It's so well themed, you are submerged in Disney. We stayed at the Lion King suites and it was absolutely beautiful & comfortable. The pools are great in the resort!"
ART OF ANIMATION RESORT (VALUE RESORT)
Rating: 8.2 / 10 Recommended By: 89% Read All Reviews (192)
As you can see, there are both pros and cons to staying at a Disney Value Resort Hotel. Guests love how easy transportation can be from the value hotels that offer Skyliner stops, but overall guests do note some quality differences for value resorts versus moderate and deluxe resorts. If you're just looking for a place to rest your head while still getting all the awesome perks of staying on property, value resorts can be a great option.
We're always looking for what our readers have to say about all things Disney World.
Which Disney Value Resort Hotel is your favorite? Let us know in the comments!